Governance Structure
Decision-Making Flow for Transactions with Interested Persons, Etc. in Acquisition and Disposition of Assets
marimo REIT adopts the following prudent decision-making flow in cases where the acquisition and disposition of assets would be a transaction with an interested person, etc. as defined in the rules on transactions with interested persons, etc. specified by the Asset Manager.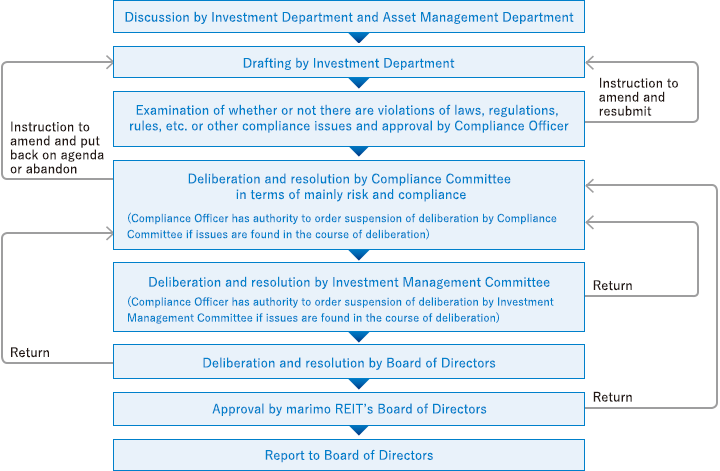 Introduction of Asset Management Fee System Linked to EPU
marimo REIT has introduced an asset management fee system linked to EPU in addition to a fee system linked to total assets on the thinking that the Asset Manager sharing in the earnings with the unitholders would serve as an incentive to realize enhanced profitability.
| | |
| --- | --- |
| Management fee I | Total assets on balance sheet at most recent fiscal period end of marimo REIT × 0.4% (maximum) |
| Management fee II | NOI (Note 1) × EPU before deduction of management fee II (Note 2) × 0.0015% (maximum) |
| Acquisition fee | Acquisition price × 1.0% (maximum) (Note 3) |
| Disposition fee | Disposition price × 1.0% (maximum) (Note 4) |
| Merger fee | Total value of opinion as of effective date of merger of successions or holdings by corporation incorporated in consolidation-type merger or corporation surviving absorption-type merger × 1.0% (maximum) (Note 5) |
| | |
| --- | --- |
| (Note 1) | NOI = Amount arrived at when total operating expenses from real estate leasing (excluding depreciation and loss on retirement of non-current assets) is deducted from total operating revenue from real estate leasing for each business period |
| (Note 2) | EPU before deduction of management fee II = Each business period's net income before income taxes (before deduction of management fee II and non-deductible consumption tax, etc.) ÷ Total number of investment units issued and outstanding at the concerned business period's fiscal period end |
| (Note 3) | The maximum shall be 0.5% if the acquisition is from an interested person, etc. as defined in the rules on transactions with interested persons, etc. specified by the Asset Manager (excluding cases where acquired and held for warehousing purposes by the concerned interested person, etc. from a party other than an interested person, etc.). |
| (Note 4) | The maximum shall be 0.5% if the disposition is to an interested person, etc. as defined in the rules on transactions with interested persons, etc. specified by the Asset Manager. |
| (Note 5) | The maximum shall be 0.5% if the merger is with an investment corporation falling under the category of interested person, etc. as defined in the rules on transactions with interested persons, etc. specified by the Asset Manager or an investment corporation from which an interested person, etc. is entrusted with the management of its assets. |